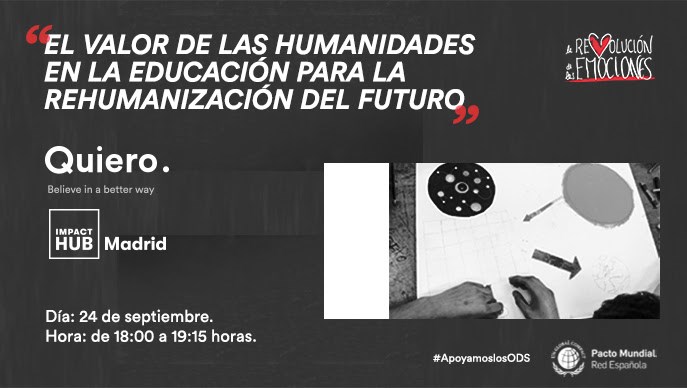 El valor de las humanidades en el currículo formativo de nuestro sistema educativo es necesario no sólo para rehumanizar nuestra formación, sino también para
potenciar las competencias necesarias para la construcción de un futuro sostenible
: nos ayudan a comprender mejor el mundo que nos rodea y a nosotras mismas. Favorecen el desarrollo de la empatía, la capacidad analítica, la gestión emocional, la creatividad y el pensamiento crítico. Y estas son habilidades cruciales hoy en día para la rehumanización del futuro.
En este momento de "repensar" el modelo educativo, esta charla suma un granito de arena y toma como punto de partida la campaña, que bajo el acrónimo
SHAPE (Social Science, Humanities and the Arts for People and the Economy)
, se está llevando a cabo en el Reino Unido para poner en valor este tipo de materias.
Agenda
Modera:
Pablo Gutiérrez
, Director de Diario de la Educación
18:00 a 18:10
Bienvenida e introducción a la sesión
18:10 a 18:30

Mesa 1: ¿Qué nos aportan las humanidades?
¿Cuál es la situación de las humanidades en la educación actual en nuestro país? ¿Cuáles son los retos a los que se enfrenta nuestro sistema educativo para poner en valor y potenciar las humanidades?
Ponentes:
Federico Buyolo, Director Adjunto del Gabinete de la Ministra de Educación y Formación Profesional.
Marián López Fernández Cao, Catedrática de educación artística en la Facultad de Educación de la Universidad Complutense de Madrid y promotora de la plataforma en defensa de la educación artística #EducacionNoSinArtes.
Nieves López Estébanez, Secretaria General de la Asociación Española de Geografía. Departamento de Geografía de la Universidad Autónoma de Madrid.
Carmen Riestra, responsable de Arte, Cultura y Sostenibilidad de Quiero.
18:30 a 19:00

Mesa 2: Empatía, creatividad, pensamiento crítico, comunicación y colaboración.
¿Por qué el sistema necesita de estas habilidades? ¿Cuáles pueden ser las vías para impulsar las humanidades en educación y en la economía?
Juan Andrés García, Director de Formación, Estudios y Grupos Sectoriales de la AEF (Asociación Española de Fundaciones).
Max Oliva, Co-fundador de Impact Hub, fundador de la escuela de emprendimiento innovador Teamlabs y profesor de IE en diseño de servicios de innovación.
Alberto Rico Trigo, responsable socioeducativo de Kubbo.
Carmen Riestra, responsable de Arte, Cultura y Sostenibilidad de Quiero.
Con la participación especial en entrevista de Julia Black, profesora de Derecho en la LSE, London School of Economics and Political Science.