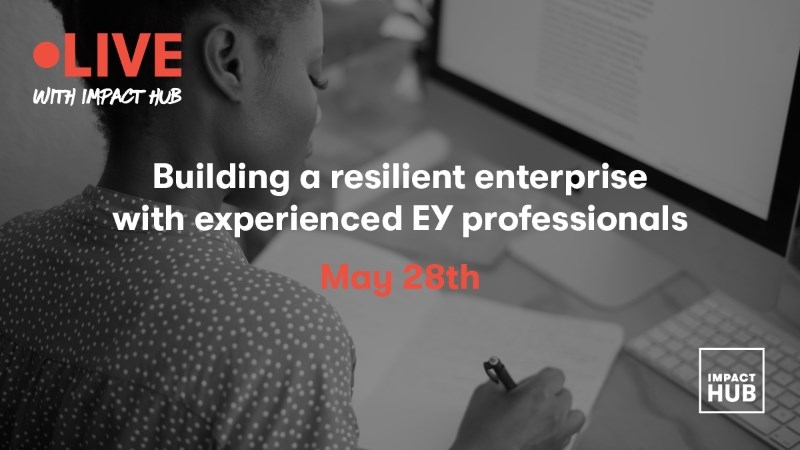 COVID-19 is an unfolding event bringing uncertainty to every business. To help you navigate through these unprecedented times we have joined forces with EY for our next 'LIVE with Impact Hub' on 'The resilient enterprise: Leading through uncertainty and complexity'. In this webinar, EY and Impact Hub will discuss the importance of enterprise resiliency in the wake of the COVID-19 outbreak. EY will share key lessons on business continuity and the range of resources and services that they have made available to support impact entrepreneurs through COVID-19. We will discuss building supply chain resiliency, navigating your people through crisis, maintaining effective communication with your customers and liquidity and cash management.
EY Ripples is a program which extends the value of EY knowledge to address some of the biggest challenges of our time. Through EY Ripples, EY provides a range of services to help impact enterprises scale and bolster their success in the critical early stages of growth. By joining this edition, you'll also gain access to these services, from digital tools to long-term capacity building services, to help you in these complex times. Learn more here.
Join us on May 28th at 5 pm CEST to increase your impact by receiving support from professionals and leaders from all over the world.
---
DATE:
May 28th, 2020
TIME:
5 pm (CEST)
TOPIC
: The resilient enterprise: Leading through uncertainty and complexity
Building supply chain resiliency
Navigating your people through crisis
Maintaining effective communication with your customers
Liquidity and cash management
KEYNOTE SPEAKER
:
EY professionals
Register now
, and go LIVE with us!